Me & My Doctor: Results from Our HCP Satisfaction Survey
Last updated: September 2023
What matters the most in your treatment? Chances are, your healthcare team makes a big difference in how you feel about your care. A good doctor-patient relationship can help you feel more in control of your health, and more prepared for the journey ahead. On the other hand, a bad doctor-patient relationship can leave you with more questions than answers, and increase anxiety. We set out to find out what a "good doctor" really means to you.
Over the month of September, we asked our communities about their relationships with their health care providers. 3,889 people, some members of this and our sister communities, shared what makes for a good doctor-patient relationship, and what makes the relationship worse.
Who took our survey, and who were their healthcare providers?
Of those who took the survey, about three out of four were female. Their doctors were more often male, about 60%. Survey takers had a mean age of 60.3, while people estimated their doctors to be between 40 and 59 years old. While ratings for thoroughness and satisfaction were similar for male and female doctors, female doctors were reported as having better interpersonal skills.
How do patients decide which doctor to see?
So many factors influence which doctor you see, some your choice and others out of convenience or necessity. Location, insurance, credentials, years of experience, and the doctor's specialty were just some of the factors listed as important in choosing a doc. Word of mouth was also a factor. Most people ended up finding their current doctor via a recommendation from another doctor. How did you find your doctor?
Are you satisfied with your doctors?
65% of the 3,889 people who took our survey said they were satisfied with their healthcare provider (rating a 6 or 7 out of a 7-point satisfaction scale). But what does satisfaction really mean, and how do you measure it?
We dug into the different qualities that make a doctor-patient relationship satisfying. Perhaps no surprise, many positive examples related to the way doctors communicate. When asked to describe why they were satisfied, people described their doctors as:
Being caring and compassionate
Listening
Taking time to be thorough
Communicating with the patient effectively
Getting the patient on a proper treatment plan
Accessibility: location-wise or appointment availability
Being humble/personable
Having a courteous/professional office staff
Knowledgeable
An effective diagnostician
What are the doctors doing well?
Similar to what makes for a satisfying relationship with a doctor, communication defined what many doctors are doing well. Speaking in a way that helps patients understand, being available when they have questions, and creating a space without judgment all ranked high. It's important to be respected and heard when discussing your health.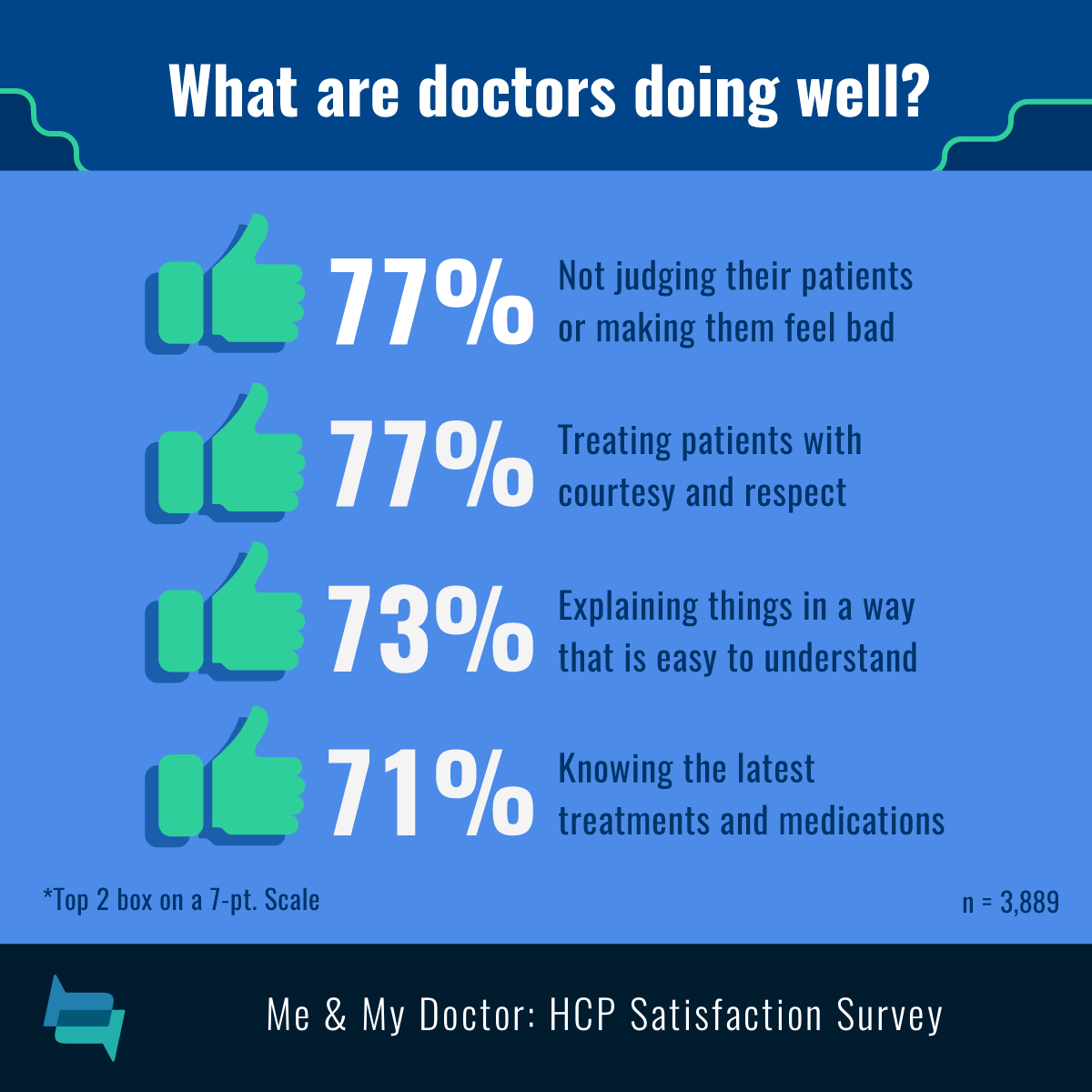 How often someone sees their doctor impacts their level of satisfaction as well. Those seeing their doctors at least twice a year rated them higher for thoroughness and were less likely to switch doctors. Those who see their doctors once a month or more had a higher level of satisfaction with their doctors, and were more likely to recommend them to others. The people who only saw their doctors as needed felt less in control of their treatment plan than those seeing their doctors more often.
"Thoroughness": Another side of satisfaction
We might all agree we want our doctors to be thorough. But like being a "good doctor," being thorough can have more than one definition. We wanted to know: what does "thoroughness at a doctor visit" mean to you? Big themes popped up including…
Asking questions and giving time for their patient to answer
Being open to patients asking questions
Listening, listening, listening!
Explaining the condition, treatment, and test results
Caring about the whole patient, their history, and their wellbeing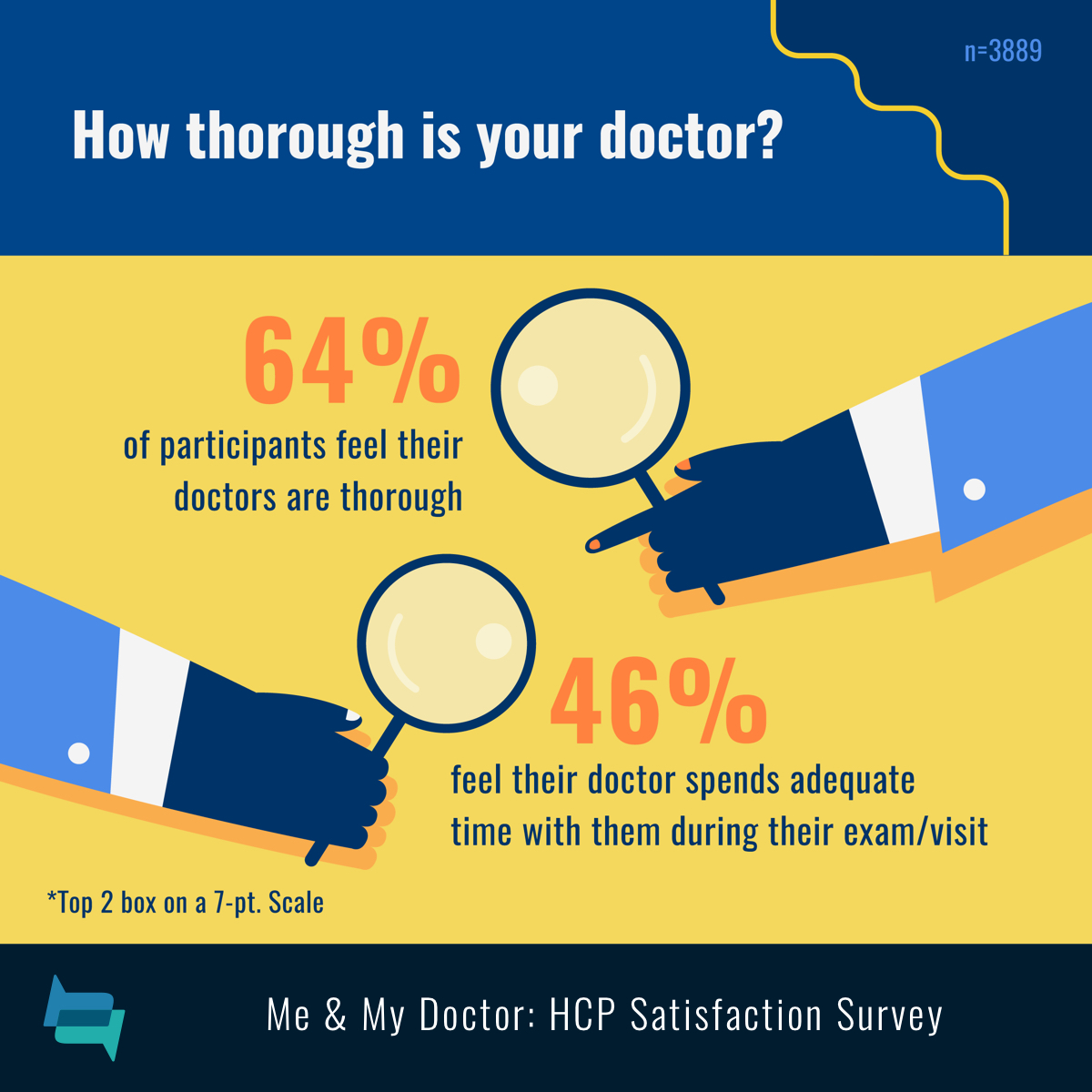 It's increasingly possible to interact with doctors even outside of the examination room. This ability to have interactions with the doctor outside of the traditional doctor's office was also connected to people's view of thoroughness of a doctor and their practice.
Some technologies that impacted thoroughness included:
Online portal for accessing test results, appointments notes (52%)
Online portal for asking questions (44%)
Online ability to refill prescriptions (42%)
Online appointment scheduling (34%)
Weekend/evening hours for on-call staff (28%)
Areas of improvement
Despite generally high levels of satisfaction, there are some big opportunities for improving the doctor-patient relationships. People expressed that there was more to be desired from their doctors when it came to discussion of cost, collaboration between the various doctors and other members of the healthcare team, explaining what to expect with a condition or its treatments, and in treating them holistically.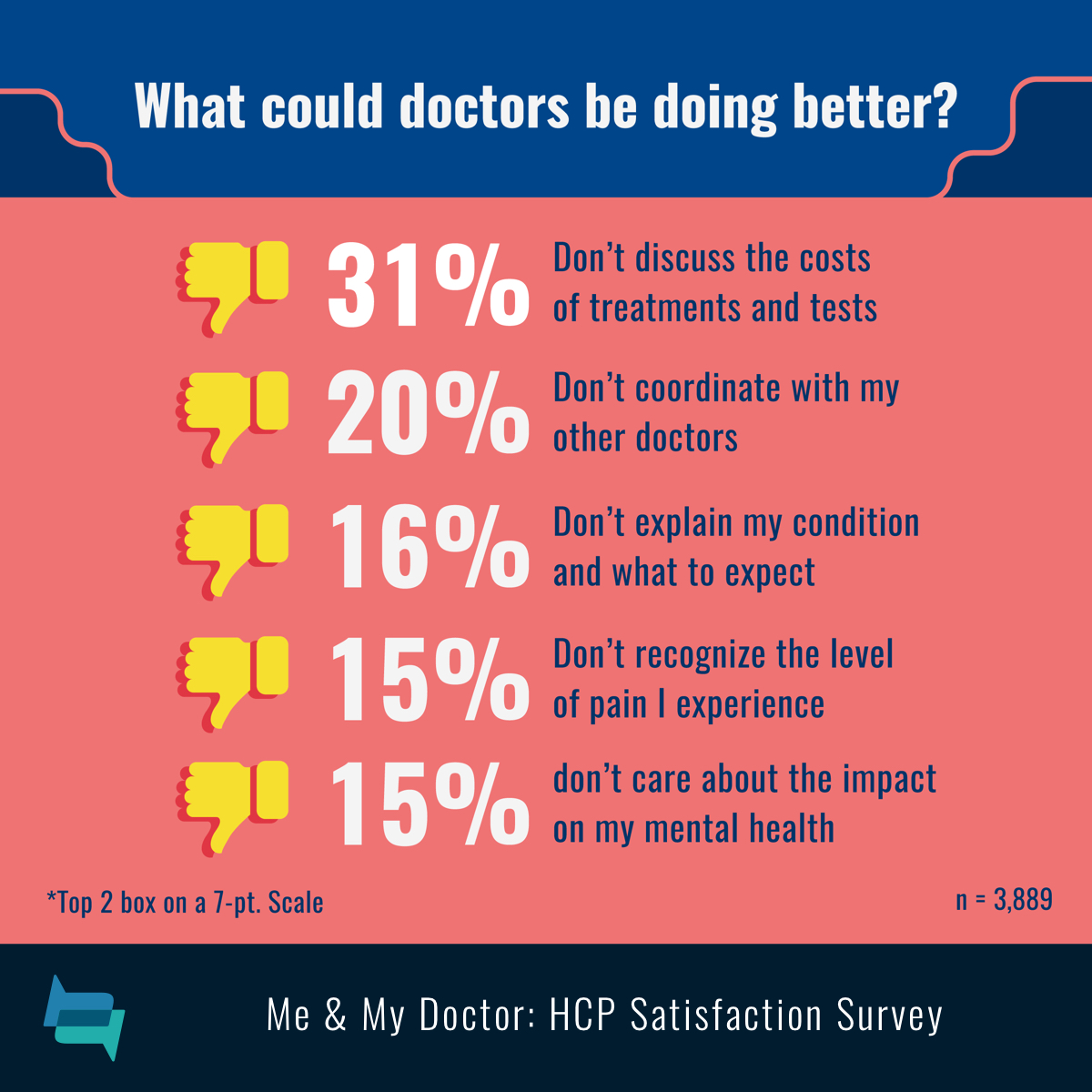 It's not too late to share your feedback! Let's discuss in the comments. What makes a good doctor-patient relationship for you? Are you happy with your current doc?

Community Poll
How often do you experience a shortage in your asthma medication?