Back to Camp with Asthma
I love camp. I didn't start going until the summer before I started high school (grade 9), and I was diagnosed with asthma before my last year of camp—holla, senior sizzler! Not being on maintenance meds then—I needed to be on them, I just wasn't—I just carried my rescue inhaler with me, and didn't really get a good sense of the whole camp nurse experience.
Back to overnight camp
In 2011, I headed off to work one-to-one with a camper at overnight camp. It was nothing like my previous camp experiences as a camper: this camp had constantly burning bonfires, a schedule for junior high campers that was even more relaxed than my Sizzler schedule had been (not a good thing!), an active 13-year-old camper (who also had asthma!), and much boy—and other—drama, it was a challenging but also growth inducing week! The camp nurse and I became besties (two of the few paid staff on site!)—as "staff", I kept my inhalers in the cabin in a locked bag, but left my nebulizer with the nurse for a more private space to take treatments, which I needed a few times that week because of the smoke.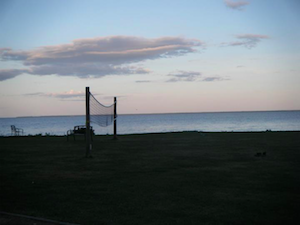 To determine when I even went to camp, I had to consult a Facebook album and thought I'd share this picture!
After this experience, I basically decided working at overnight camp was not really my jam. I am not into unpredictable environmental smoke, lack of cell service (which the nurse and I constantly commiserated over!), and working teens through boy drama! (I was, however, very much into the late night chat I had with a camper I really saw my own fourteen-year-old self in!)
My 2018 camp experience
In the Spring, I got a text from the mom of one of my favorite-ever former Special Olympics athletes, asking if I'd be interested in going to tennis day camp with her son as an inclusion support worker. I don't think I even checked my calendar before saying yes! I'd spent many years as a camper in programs this camp offered and knew if anything, they'd have become even better at what they do. Of course, getting to spend a week with one of my favorite athletes—a generally agreeable though sometimes teenager-ish teenager!—also made this an easy decision.
Plus, I knew they wouldn't be randomly burning any fires on campus. Well, probably, anyway.
Now, the tennis itself wasn't a problem—well, it was, because I suck at tennis, but it solved itself quickly the day I started to rally with my camper, could not get the ball over the net, and he walked away. Totally do not blame him! But, the tennis complex seriously could not be much farther from everywhere else we needed to be! And my camper has long legs and walked 30-50 feet ahead of the group at all times. I didn't bother trying to keep up with him after the first walk to the tennis complex. He looked back about every minute, is very aware of where he is going, stopped at crosswalks, and I could yell up to him to stop and wait or slow down a bit and he complied in some fashion.
So while I didn't have to COMPLETELY keep up with him, I still had to walk fast for 13-20 minutes 2-4 times a day, though. While trying to converse with his group leaders or other campers. Camp is a good workout, clearly!
Strategizing for asthma at camp
Camp would have been no problem without a speedy camper and relatively long walks (I kept thinking to myself, I will never again complain if I have the slow walking camper, and then debating which was worse!). A couple days, I bumped up my Zenhale based on the projected physical activity and the forecast (heat, humidity levels, and rain). I kept my rescue inhaler in my pocket as always and took Atrovent at lunch one or two days. I took a puff of my rescue inhaler before swimming on the days we were in the pool, and otherwise only needed it once on Friday afternoon when it was 34 degrees Celsius, we'd walked 20+ minutes to the soccer complex (beside the tennis courts, of course), I was tight/out of breath, and I wanted to be able to potentially play bubble soccer! (Obviously.) I took a couple stealthy hits of my inhaler from the bench as my camper rolled around in a bubble, waited it out until I spied a free bubble for myself, and all was well!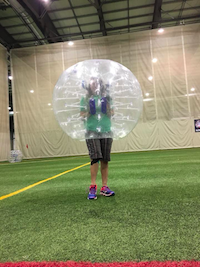 Oh, and then campers proceeded to somersault me in the bubble. Because senior camp is the best kind of camp.
The spontaneity of camp takes a bit of strategizing, but even with unpredictable factors like weather, and an active schedule, I made it work with only a few asthma-related blips, and had a lot of fun!
This article represents the opinions, thoughts, and experiences of the author; none of this content has been paid for by any advertiser. The Asthma.net team does not recommend or endorse any products or treatments discussed herein. Learn more about how we maintain editorial integrity
here
.

Community Poll
Does cold weather impact your asthma?