Contemplating Transatlantic Travel with Asthma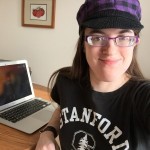 By Kerri MacKay

·

December 2, 2017
A week before starting this post, I jotted transatlantic travel into my notebook. I had yet to receive my itinerary for my whirlwind trip to Switzerland: three days in Zurich for meetings about clinical trials in asthma (disclosure, below). I have never travelled overseas, and on top of that, it seems ridiculous to spend two full days in transit for three days in Europe, but alas, this is what I am doing! I love flying as much as just about anything, but the prospect of being on a plane for eight or nine hours in a single stretch makes me antsy just thinking about it (and than multiply that by some, given I have ADHD!). Day one of the trip is about sixteen hours of travel; day five—the return home, about twenty. Twenty. Hours.
In my head: Travel… and asthma.
YWG-YYZ-ZRH / ZRH-FRA-YYZ-YWG. When you have asthma, your brain is not just full of airport codes. You don't just have to remember your passport and contemplate that you speak none of the official languages of Zurich (though apparently they all speak English quite well over there, thank God), you also have to think about weird asthma things. I'm not just talking about making sure you've got all your inhalers organized. I'm talking about, like, hoping that this is not the flight the person drenched in perfume is beside you, or the contagious sounding person is closer than two seats over and across the aisle. I've been so lucky so far. I don't want my luck to run out on a transatlantic flight that is eight or nine hours in duration, of all flights. Between being cooped up for hours on end in the air and the nagging asthma worries (and having to figure out time zones and inhalers and dosing three inhalers in flight), I was excited about the trip… but not about the travel. And that was weird for me. I freaking love airplanes.
Except then I got my itinerary and was excited again.
Flying… in style?
Once, when I was three, a series of flight issues lead to my mom and I being bumped to first class. I don't remember it, obviously, but apparently I was roughly contained to sleep within one seat, and my mom was served lobster or something with actual cutlery. (Ah, the pre-9/11 days… How the world was a different place.)
Perhaps I should have been less mind-blown than I was, to get my itinerary and have most of my asthma related travel anxieties wash away. After all, I am flying overseas to meet with one of the Big Pharmas as part of a patient advisory group. Alas, my brain still exploded about thirty times when I read Class: Business next to all five of my flights. A quick trip over to Seat Guru, and I discovered from Toronto to Zurich i have a freaking pod. On the way back, from Frankfurt to Toronto, I have a flat-bed seat, though not a pod. So, I feel like my chances of staying healthy en route to Zurich are about 90% higher than they otherwise would be. (Update after the trip: I developed some sinus congestion a few days after coming back from Switzerland, except it's now been over a week since I got back and a week since I got all stuffy, and it hasn't morphed into a cold, so I have no idea. But I am going to maintain I didn't get sick.)
Seriously, I was hoping for a little extra legroom in Premium Economy or something. I was pleasantly surprised. And with a smaller number of people around me, I have a smaller number of asthma related anxieties following me onto the flights ahead.
Worrying about the important stuff.
So, now I can go back to worrying about important, normal stuff. Like why is the Swiss flag square (the flag on the soldiers uniforms was square and they wanted to keep it that way, per Quora), and Swiss cheese must just be cheese because they are just geese up here, while y'all call them Canada geese, and trying to teach myself German on Duolingo except that it's not even Swiss German.
Thank innovation for that photo translating feature from Google Translate. (Update after the trip: that proved super necessary when I couldn't get the train ticket machine's English function to work and I had to stand there with my phone translating the screen for me.)
Sometimes, it's kind of refreshing to have to worry about things that are not asthma related.
Disclosure
: I travelled to Zurich, Switzerland to attend meetings of an Advisory Board on Clinical Trials in Asthma, hosted by Novartis Pharmaceuticals. Novartis paid for my business class airfare, accommodations, all expenses (excluding Swiss chocolate and cheese, but including fondue), and provided consultancy payment to me as an independent contractor. I was not requested to write about the event (and clearly, I am not, but I felt need to disclose how the heck this all happened).

To be extremely clear, my contract with Novartis for this event has nothing to do with my relationship to Health-Union and Asthma.net–and my disclosures simply have everything to do with transparency.
This article represents the opinions, thoughts, and experiences of the author; none of this content has been paid for by any advertiser. The Asthma.net team does not recommend or endorse any products or treatments discussed herein. Learn more about how we maintain editorial integrity here.