Finding a Sport That Works for Me: Archery
A year ago, I wrote about "checking the athlete box" and joining the Manitoba Blind Sports archery program (months before it started). Well, 11 months after that article was posted, I completed my third archery block of the season—complete with glow archery! We had three blind archers in that last glow class, but as I joked to the two blind adults in the class as they were cracking jokes about being scared of the dark, "Don't worry, it's just normal archery for you guys anyway."
Archery: An asthma friendly sport
As we saunter down the range to gather arrows, we frequently joke about the non-intensive nature of archery—though, I read the other day competitive archers can walk 8 kilometres (5 miles) a day in tournaments. Look, you can't run with the arrows, people, it is not safe. Are my arms and upper back sore the next day? Sometimes, sure. Is it a sport? Um, absolutely, even if it's not the most cardio-intensive.
But do we have "too much fun", especially with the guys on either side of me dancing, singing, and doing impressions through our weekly lessons? I'll let the guy who didn't come back after his first-day answer that—we "weren't serious enough". I mean, that's my kind of class. Especially since I don't even need to pre-medicate for it!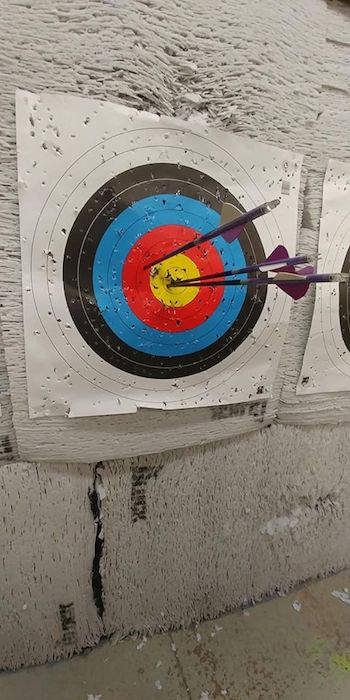 Before taking up archery myself, I went down to the range a few times, and learned the basics with friends in tow: I took my friend Jess down to meet archery instructor Diane when she was in from Toronto; I took my Special Olympics athletes there for our wind-up; and I took my cousin and his girlfriend when they were in from Minneapolis. Then I went all in, starting weekly lessons alongside my friends Steve and Derek—however, there are also younger teens in our class, and kids who shoot at the range, underscoring how you can truly start archery at any age!
While my friend Steve pointed out we do archery in a basement—where sometimes water gets in and last week it was quite dusty!—the only asthma problem I occasionally have with archery is trying not to cough while shooting! 😉 Steve also pointed out that archery is a good stress-reliever (after all, how could even just the sound of the arrow hitting the target not be satisfying and a great release of energy?!)
To date, I usually do my target-shooting indoors. As we've come up on summer and the end of our season, I've begun taking that practice outside at the cabin with a DIY target, which adds some humidity, weather conditions, and allergens to the mix. Fortunately, allergies aren't a huge problem for me, but very much are an obstacle to navigate for other asthmatics participating in outdoor sports!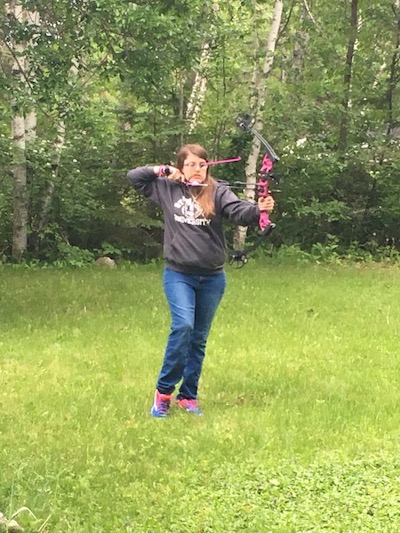 Taking archery out of the traditional range
Aside from being able to see my arrows—I still can't see those, which I guess is why it's helpful I'm in the blind archery class (despite my vision being pretty bad, I'm not visually impaired!), over the last year I've gained the basic skills I need to shoot fairly well on my own. In March, I purchased a compound bow, step one toward being able to practice outside the range.
After getting started and equipped, my "challenge" has just been gathering supplies to hack a target together out of:
Styrofoam-free, from the transfer station (aka very organized dump) near my cabin where I'll be target shooting
Wood—free, pre-used from behind the shed at the cabin (wood screws found in the shed)
Screen for the back—free, salvaged from my aunt's basement.
With a few hours of work and help from my mom, I've got a target together for free. I do plan to spray paint it for fun (with leftover spray paint), and cover the foam with duct tape—an unnecessary, mostly-cosmetic step (though it may assist a tad with longevity) that will cost about $5.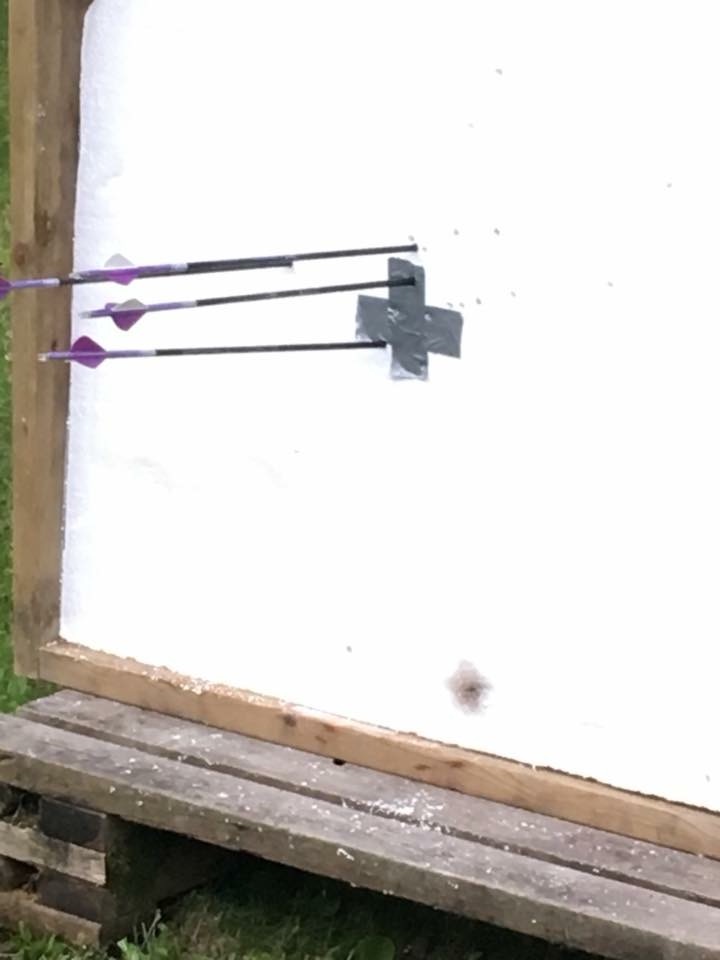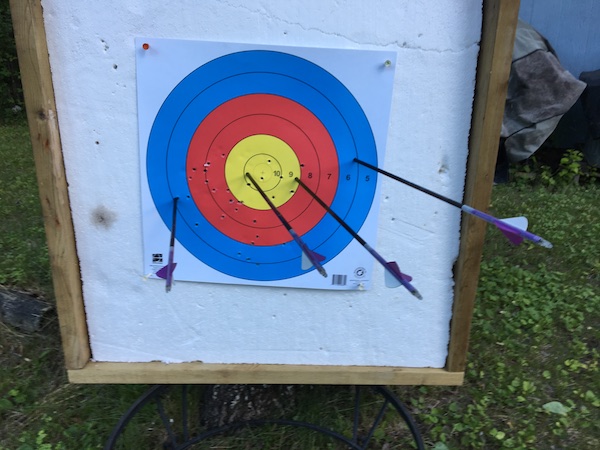 Now that I've finally found a sport I enjoy, I've also discovered how to keep it up in the off-season (though adjusting my arrows for the wind is totally beyond me—I'm so an indoor athlete!). So, asthma, you got nothing on me for this one—even if the humidity did tire me out a little faster than usual the other day!
And while my Thursday night classes may not be "serious enough" (just the way I like them!), as of the end of June, I've started the process to see if I qualify for para archery with my wild and crazy jointsthanks to all sorts of post-septic arthritis range of motion restriction shenanigans in my right elbow, wrist, and hip—seriously, those x-rays don't lie, there is a piece of my hip just not there! It'll be a long process, and I may or may not classify for para, but… there's a possibility if I start working with a coach (and another local para archer!), I could be developmental-competition-ready by next spring.
Which seems totally fast. But hey, it's fun, so I'm game to see where this adventure goes!
Have you tried archery? What sports have you found to work well with your asthma?
This article represents the opinions, thoughts, and experiences of the author; none of this content has been paid for by any advertiser. The Asthma.net team does not recommend or endorse any products or treatments discussed herein. Learn more about how we maintain editorial integrity
here
.

Community Poll
Does cold weather impact your asthma?