The Importance of Social Support in Managing Asthma
On April 22, I had the privilege of speaking at Stanford Medicine X | ED, along with my friend Sara Kearley, to medical students and educators, as well as patients, about the role of social support in navigating a chronic medical condition, like asthma. Social support as a topic I have written about before on Asthma.net but it was interesting to step back and think of this discussion from the perspective of the healthcare provider.
We may wonder why our doctors do not provide us more assistance in "finding our people"—connecting us with others in circumstances similar to our own. For this presentation, I had to shift my perspective to that of a healthcare provider—they have learned to balance benefits and risks for patients, and if their main idea of "what patients do on the internet" is perhaps that we go on WebMD and google doctor ourselves, well, I can see how that might be concerning. The reality is, just as I say time and time again that I am not a doctor, and I am not the right person to give medical advice, our doctors may not know where it is best for patients to find social support in managing chronic disease—or even why it is important.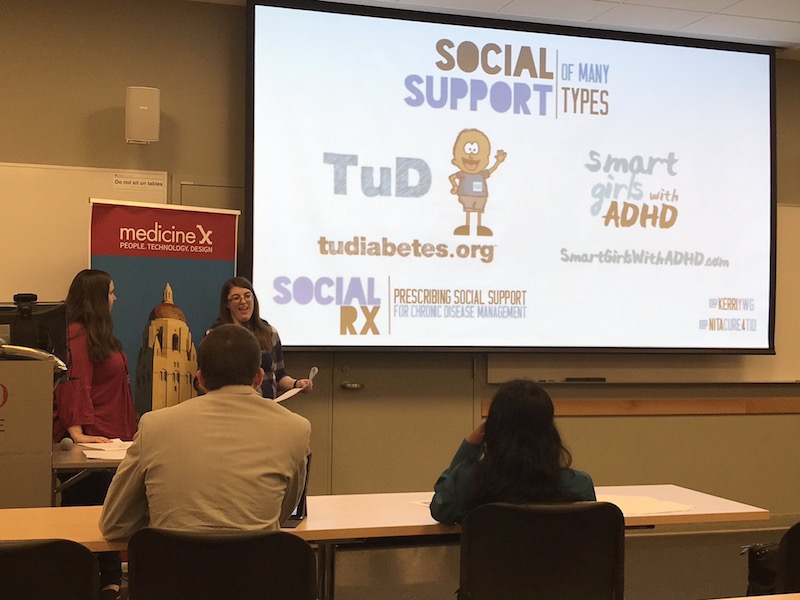 Presenting at Stanford Medicine X | ED. Photo credit to Kevin Clauson.
In our presentation, Social Rx: Prescribing Social Support for Chronic Disease Management, we went over a few ways that physicians or other health care team members (nurses, educators, dietitians, social workers, mental health professionals)  can navigate the "ethical grey zones" of recommending social support to their patients, as was appropriate for that patient (ie. they may not be interested at all, and that's cool). Some ways we figured physicians might be more receptive to starting the discussion about social support were to have vetted these resources personally, or having had a colleague recommend such resources, leveraging local or national non-profits that they might recommend to patients for educational resources about their diagnosis, and which might also have social support resources available (such as an online forum or an in-person group, for example). Another recommendation I made was having health care teams check in with their "engaged patients" for how—or if—they access social support, and where this subset of patients finds their resources, and then having the care provider personally investigate those resources to determine their level of comfort, and trust in the resource, in making such recommendations.
Social support - important for managing chronic conditions but not a replacement to doctors
The core thing we underscored, though, is to ensure patients know not to change their care plans without seeing their doctors first. As I said, "Patients are going to the internet anyways, we might as well be giving them good quality resources to connect to others."1 For example, websites moderated by healthcare providers (like many online forums, or sites like Asthma.Net) which help to ensure that patients are connected with others like them but also reminded that the internet is not a doctor.
One statistic I could not find, is how many physicians do actually check in with their patients about if they are adequately supported—whether by having people in their life that give them space to talk about their chronic disease, or—and I think this is of important that must be underscored—connecting with people who are actually living with that condition, as well. I know that I've personally grown immeasurably because of being able to connect with others who have asthma online—and I hope that, if health care teams start "prescribing", or recommending, these resources to patients, we are all able to have more vibrant conversations about our experiences, and that social support becomes a tool by which more patients are enhancing their own wellbeing and healthcare experience.
Did a doctor, nurse, or asthma educator recommend you connect with others with asthma at any point in your asthma journey? If so, where did they recommend you find information? Let us know in the comments.
This article represents the opinions, thoughts, and experiences of the author; none of this content has been paid for by any advertiser. The Asthma.net team does not recommend or endorse any products or treatments discussed herein. Learn more about how we maintain editorial integrity
here
.

Community Poll
Does cold weather impact your asthma?