Do You Use Toys in Kids' Asthma Education?
Twitter has caused me to get in trouble (not *real* trouble), and get ideas simultaneously. When Asthma Canada tweeted a picture of the AeroBearasthma education toy one day, well, I just knew I had to try tracking down my own AeroBear. Which was surprisingly easy, actually. Within two weeks, a box from Trudell Medical International, makers of the AeroChamber—and now AeroBear—appeared at my house.
In full disclosure before we get rolling: I received AeroBear free of charge from Trudell Medical International (TMI). While I initially said AeroBear would be a "great thing to write about", TMI didn't ask for my opinion, nor to write about the product. They just sort of sent me a bear and education kit. Naturally, though, writing about stuff is just what I do. I am not a medical professional, nor trained asthma educator, nor parent. With that said, here we go.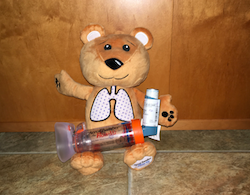 Learning through play: The need for asthma education toys
Since I began learning about asthma and asthma education, it seems that teaching children to use their inhalers and spacers by modeling on a teddy bear or other stuffed animal is common practice. In 2014, I learned about Jerry the Bear, a diabetes education toy and tool for kids with type 1 diabetes to learn how to test blood sugar and do insulin injections or pump site insertions on a bear that was "like them", and wondered why there wasn't such a tool for asthma education. Similarly, after a petition by the Diabetes Online Community, American Girl has a diabetes care accessories kit for dolls (and forearm crutches, too!)—an amazing learning tool for kids!
Children learn through play. Yet, when I Googled asthma education toys before writing this article, only toys that were asthma & allergy friendly appeared, and only books and videos about asthma. Um, hello, can we not do better for the 1 in 10-12 kids out there with asthma?!
Hello, AeroBear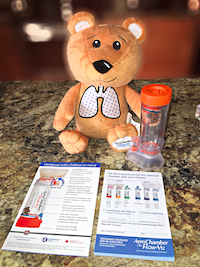 The first truly asthma-focused toy that I've seen out is AeroBear—a cute, friendly-looking teddy bear-like any other, except that bit where his lungs are appliquéd outside his body. The caveat here is that AeroBear's intended use is by medical professionals, to teach children and parents how to use an inhaler and spacer with a mask properly. As such, AeroBear is not a consumer product (…yet?)—more on that shortly. AeroBear comes appropriately packaged for medical professionals, including a demonstration AeroChamber (correctly sized for AeroBear, or a 0-18 month child), an instructional leaflet for using AeroBear with patients and families, and a "prescription pad" for AeroChamber devices to ensure patients get the right one.
Thoughts on AeroBear in clinical practice
For pre-school aged children, as well as some older children, I think that demonstrating inhaler technique on AeroBear may help them realize that the mask is not scary and will not hurt them—it becomes a friendlier experience.
For parents, AeroBear ensures a way to be taught how to use an inhaler, without having to try that demonstration or practice session on an impatient child—since most spacers, including AeroChambers are single patient only devices, doctors and nurses may also lack the ability to demonstrate directly on even a willing child due to sterilization requirements unless that child already has a spacer with mask of their own at the appointment.
I think AeroBear's most useful appearances would be for families receiving a new asthma diagnosis for their child under 6 or 7 years old, but also with any children or parents showing signs of high anxiety levels about asthma—does anything lighten the mood more quickly than a cuddly bear?
For most parents, the "perfect scenario" for demonstration of asthma inhalers directly on the child within the medical setting seems impractical at best—children may be uncooperative, or crying, or babies may even be asleep—hardly the time to distress them with a mask—these are all educational gaps in clinical practice AeroBear may be able to fill in pediatric populations. Re-training parents is also a use of AeroBear—if your child is struggling to use their inhalers effectively, AeroBear (or uaing similar teddy bear of your child's!) may be something to ask about at your next asthma clinic or asthma education visit, to refresh parents and (attempt to) put children at ease.
As a teaching tool, I see a few potential issues with AeroBear. The first, his purpose is to ensure parents know how to use the AeroChamber and form a good seal around the child's mouth and nose with the mask. In reality, his bear-shaped face makes it hard to do this properly. Only if I pushed with moderate force, could I form a seal around both AeroBear's nose and mouth. Which is, um, not realistic to how this would fit a child—fortunately!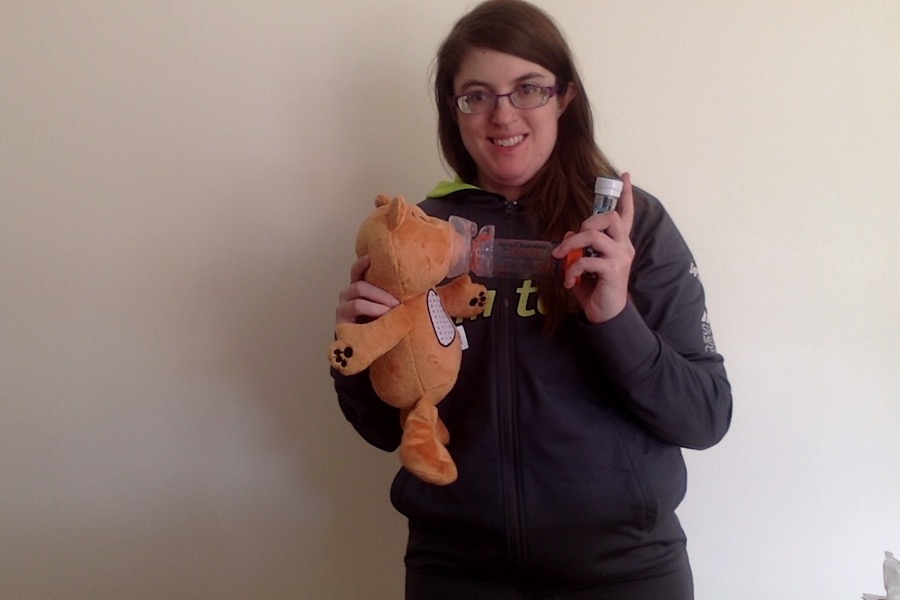 Issue 1: inadequate mask seal around AeroBear's nose.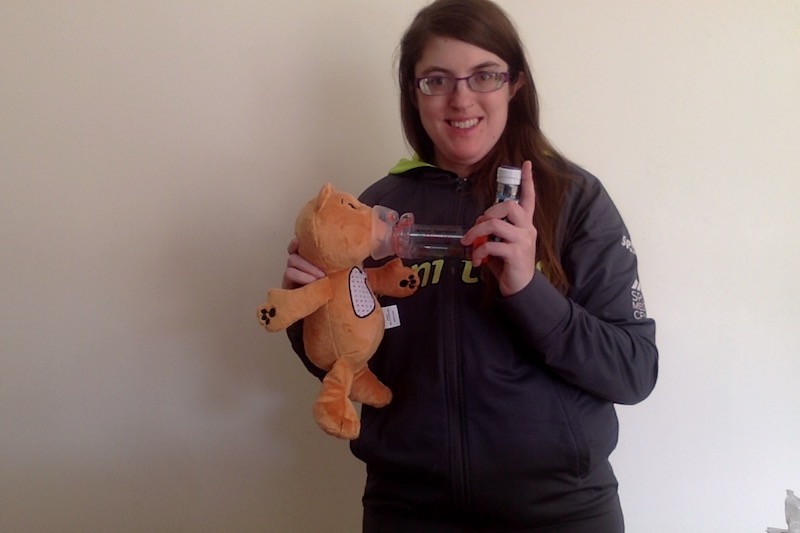 Adjustment brings us to issue 2: Inadequate seal around the mouth.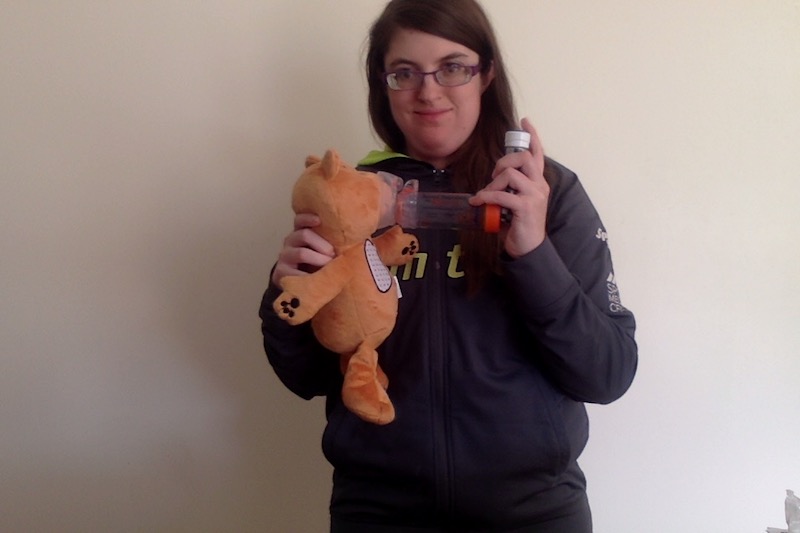 Second adjustment—Adequate seal but I am forcefully squashing the poor bear's face into the mask! Note: this would not happen to a child. Nor would I hold a child this way!
Second, is that AeroBear just chills at the doctor, he doesn't go on all kinds of cool adventures like kids with asthma do, so he's still kind of clinical, even if he's totally not when he's sitting beside me at my kitchen table as I write. (I'm debating taking him to Switzerland with me.) Kids need to be able to take AeroBear into their real, non-clinic-y, lives. Third, is the issue of accessibility: AeroBear seems to not exist outside of pictures on AeroChambers—though I may be ahead of my time?
Cuteness and reliability points, AeroBear totally gets those though.
Expanding the impact—and benefit
As members of the Asthma.Net community, we can probably be seen as pretty strong believers in—and proof of!—the concept of "me, too". "Me, too" makes asthma suck less, knowing there are people similar to us out there. Knowing people who share in our asthma experiences can make asthma feel less burdensome and help us cope with the daily realities of unpredictable chronic disease. In the past I've written about the Asthma Pals program, that puts "me, too!" in context for school-aged kids. Younger children with asthma may not as directly need the power of "me, too" to cope with asthma, but they are in equal need of positive learning tools that teach them how to manage their asthma. It's never too early to teach a child that there are others like them.
And, AeroBear is "like them", especially if used outside the clinical setting (as Jerry the Bear for diabetes is used in the home!), can amplify the "me, too" factor, and allow children to play, and explore feelings about asthma and their medicine on their own (note: sans the actual medicine in the inhaler, of course! As well, TMI cautions to not allow children access to an AeroChamber without supervision and that it is not a toy. Which it's not, except, in my opinion, experiential learning is important). Unfortunately, as mentioned, this isn't the current "intended" use of AeroBear, and I don't know when, or if, AeroBear will be available for at home, and to be a daily learning and education tool like Jerry is.
Final thoughts on AeroBear
I love AeroBear in theory and in appearance. I'm a sucker for a classic golden-brown bear adorned with lungs, I guess! If his facial features were a better fit with the AeroChamber mask and didn't require unrealistic force, and if AeroBear explored the real world alongside children with asthma to be truly like them, he'd get an A+! Parents may wish to consider asking their child's pediatrician or asthma specialist if lessons learned from this post on AeroBear may be adaptable to your child's care and asthma education plan.
Do you use toys like teddy bears when teaching children about asthma, either in a clinical education practice or as a parent of a child with asthma? How has a tool similar to AeroBear worked for you?
Disclosure: I requested and received AeroBear and the AeroChamber education kit free from Trudell Medical International, based in London, Ontario, Canada. I was not asked to write about AeroBear or provide a review—although if they read any other reviews I've posted, they knew they'd get honest feedback! 
This article represents the opinions, thoughts, and experiences of the author; none of this content has been paid for by any advertiser. The Asthma.net team does not recommend or endorse any products or treatments discussed herein. Learn more about how we maintain editorial integrity
here
.

Community Poll
Have you ever experienced an itchy chin prior to or during asthma attacks?