What Types of Nebulizers Are Best For You?
Last updated: September 2022
Many people with asthma use nebulizers. Along with inhalers, they are a viable way of inhaling respiratory medicines. Unlike in the past, there are many types of nebulizers to choose from today. With so many options, what type of nebulizer is best for you? Here's what to know.
What is a nebulizer?
They are also referred to as small volume nebulizers (SVN). This means they deliver a small volume of medicine. This usually consists of one dose of one or more medicine solutions. SVNs turn the solution into a mist for inhaling. They allow you to take breathing treatments. Treatment times vary from 5-20 minutes, depending on the nebulizer type you are using.
There are many types of nebulizers. Here are some of the most commonly used nebulizers.
Jet nebulizer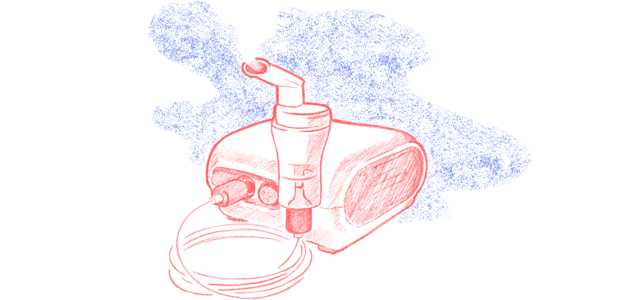 This is the most common nebulizer type. They consist of a nebulizer cup attached to a mouthpiece. The bottom of the cup consists of a tiny opening. Oxygen tubing is attached to the bottom of the cup. The other end of the tubing is attached to a compressed air source. At home, this source is usually a nebulizer air compressor. A flow of air enters the opening at the bottom of the cup. This turns the solution into a mist. You can purchase individual nebulizers for less than $5. Medicare, Medicaid, and most insurance will cover the cost with a prescription.
Nebulizer compressor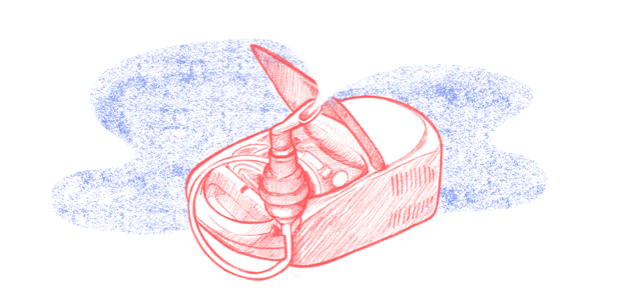 If you need a nebulizer at home, you will need a nebulizer air compressor. They are powered by electricity or battery. They draw in room air and compress it. This creates a flow of air that can be used to run nebulizers. Most nebulizers compressors come with a nebulizer. They are referred to as nebulizer/compressor systems, or simply nebulizer systems.
Tabletop nebulizer system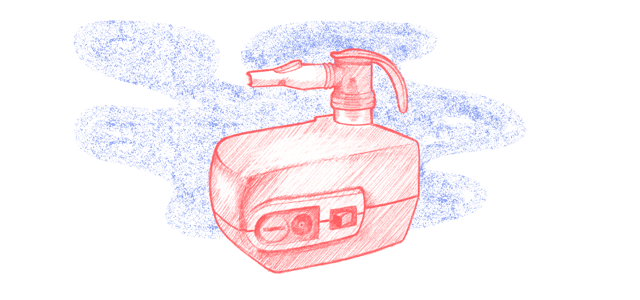 This is a nebulizer air compressor plus nebulizer. They sit on a tabletop and require electricity. These are the most basic jet nebulizer units.
Advantage

They have been around for many years. Therefore, they tend to be the least expensive units. Medicare and most insurance will usually reimburse you for these if you have a prescription for one. You can also purchase them without a prescription at online shops like Amazon. They are very affordable, costing $50 or less.

Disadvantage

They cannot be used without an electricity source. They require tubing. The compressors are relatively loud. This can be inconvenient when taking treatments at night.

Examples

Devilbiss PulmoMate Compressor Nebulizer System, Monaghan Ombra Tabletop Nebulizer Compressor System, Omron Compair Nebulizer System, and Respironics InnoSpire Deluxe Compressor Nebulizer System.  There are also many generic units available.
Portable jet nebulizer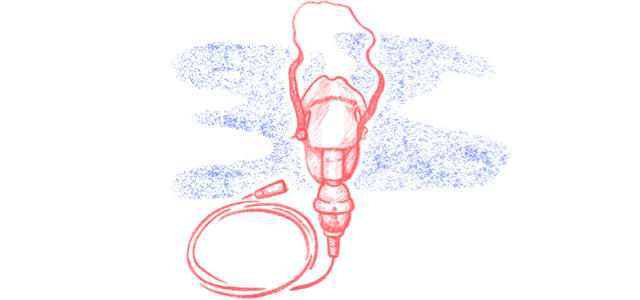 These are jet nebulizers you can use anywhere. They have chargers that connect to electric outlets inside homes and chargers that connect to cars. They may also operate by batteries.
Advantage

They are smaller and very portable. You can use them at home, in the car, and anywhere in between. Some insurance companies will reimburse you for the cost if you have a prescription.

Disadvantage

Like tabletop units, they are loud. They are also more expensive than tabletop units. They cost more than tabletop units. But, you can also buy them online for as little as $100.

Examples

DeVilbiss Portable Compressor Nebulizer System, Pari Trek S Portable Compressor Nebulizer Aerosol System, and InnoSpire Mini Compressor Nebulizer System.
Vibrating mesh nebulizers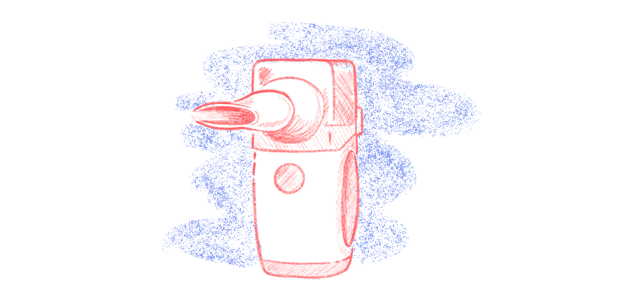 These are the newest type of nebulizers. They have only been around since 1993. They contain a mesh disc the size of a dime or quarter. This disc vibrates at ultrasonic speeds. They may vibrate over 100,000 times per second. This turns the solution into a mist for inhaling. Some have rechargeable batteries and some require AA batteries.
Advantage

They do not require tubing. They are very quiet. They are small hand-held units from the size of an iPhone to slightly larger They do not require tubing. They are completely silent. They are very portable. You can carry them in your pockets or purses just like an inhaler. You do not need a separate air compressor.

Disadvantage

They cost between $150 and $300. Medicare and insurance companies will not cover the cost. You will have to purchase them on your own.

Examples

Examples include the Flyp Nebulizer, the Innospire Go, the Aura Portable, and the Portable Micro Air Nebulizer.
What type of nebulizer works best for your asthma?
It kind of depends on your circumstances. Medicare and insurance companies will definitely limit your choices. Usually, they only pay for cheaper tabletop units. Sometimes they will pay for the portable jet nebulizers. If you're willing and able to pay on your own, your options are unlimited.

Community Poll
What type of nebulizer do you use? (check all that apply)
Would you recommend your nebulizer to others?
Let us know your thoughts in the comments below or tell your story here.
This article represents the opinions, thoughts, and experiences of the author; none of this content has been paid for by any advertiser. The Asthma.net team does not recommend or endorse any products or treatments discussed herein. Learn more about how we maintain editorial integrity
here
.

Community Poll
Has laughter ever triggered your asthma?