Recapping World Asthma Day on Canada's Parliament Hill: A new adventure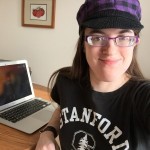 By Kerri MacKay

·

July 17, 2017
Note: While this post focuses on the structure of the Canadian government, please change the necessary words in your head and make it relevant to you. Because talking to your people matters, no matter where you live!
World Asthma Day falls on the first Tuesday in May (this year, that happened to be May 2, 2017). This year, I travelled to Ottawa, Canada's capital, to spend the day on Parliament Hill with a team of staff and volunteers from the Asthma Society of Canada. We met with Members of Parliament and their staff, and educated them about asthma, shared our asthma stories, as well as why certain issues—access to medicines and clean air—are important to the asthma community, and learning what our representatives on the Hill are doing to help the 3 million (10%) of Canadians living with asthma live healthier lives.
Meeting with your representatives to educate them about asthma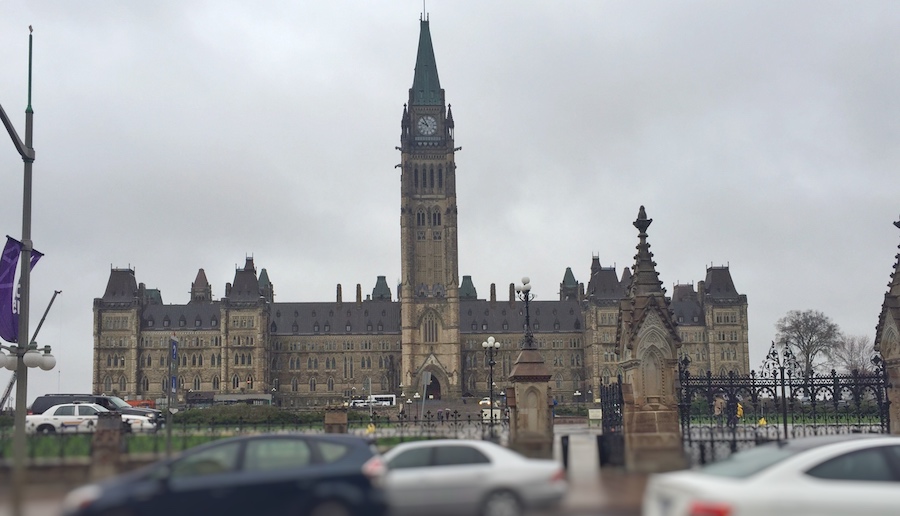 Canada's Parliament Centre Block – the Peace Tower in the centre is the tallest structure in Ottawa, as noting is allowed to be taller than it. Also, yes, it's the CentRE block – I usually Americanize my spelling but not this time ;).)
Meeting with Members of Parliament was a brand new experience for me—and I'll be honest, I thought I would hate it. Not so! Since the most recent US election, I have been hearing a LOT of my friends down South encouraging one another to contact their representatives about important issues. Members of Parliament (MPs) are the Canadian equivalent to Congresspeople1, and honestly, I thought that contacting your representative was sort of an American thing. Not the case! In the span of about five hours of meetings, I realized the immeasurable value of meeting with your elected official—a theme I'll continue with in my next post, Activate: Meeting Your Representative.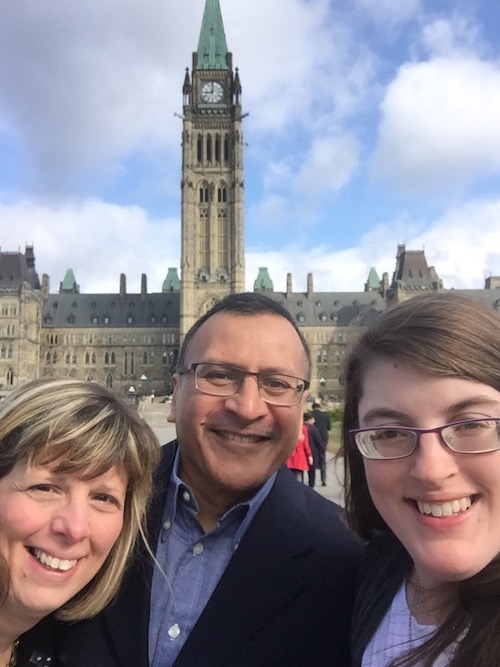 We called ourselves the "Dream Team" all day, because it's true.
Left – Vanessa Foran – President & CEO, Asthma Society of Canada; Centre – Vibhas Bapat, Asthma Canada Member Alliance representative from Ontario; and myself, right.
Here's the thing: I went to Ottawa with no idea what I was doing aside from one phone call, some briefing notes, a schedule, and the knowledge that Vibhas was my partner. Vibhas and I clicked the first time we spoke on the phone about a project, and have met twice before. He is generally awesome—I began calling us the Dream Team immediately. Vibhas nor myself had any experience with meeting MPs, and were happy to become the Dream Team Cubed when Vanessa joined us, bringing years of experience in health advocacy—and teaching patients the ropes on the Hill—to our team.
9:30 AM – Our First Meeting 
After a group breakfast, we headed to Parliament Hill for our first meeting with Bill Casey, a Nova Scotia hero (honestly!), Liberal Member of Parliament, and Chairman of the Standing Committee on Health. After sharing statistics on asthma in Canada, and presenting him our leave behind information folder, Mr. Casey asked us questions about what asthma is, our personal experiences, and gave us advice of people in government to contact who would be helpful to our points of discussion. Our meeting with Mr. Casey was a fantastic way to start the day—both informative and, yes, fun!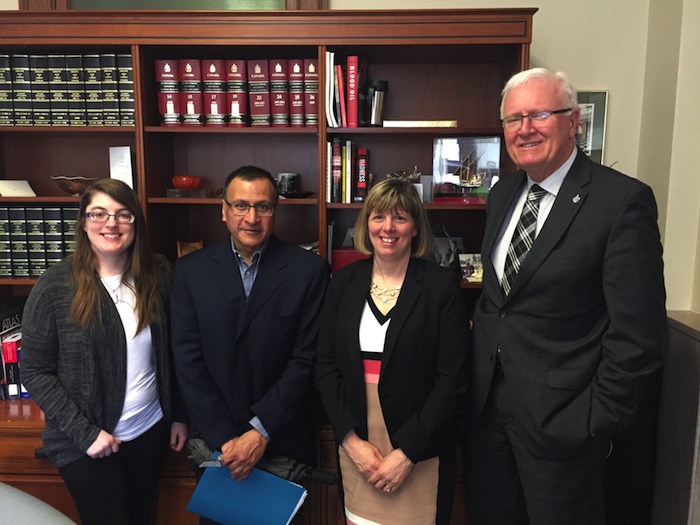 Myself, Vibhas, Vanessa, and Mr. Casey, Liberal MP from Nova Scotia (left-to-right)
Following our meeting with Mr. Casey, we took a break back at the hotel, and as our 11:30 meeting had been cancelled, we were free until 3 PM (well, I thought I was!). The Dream Team met again for lunch (after the Snowbirds flew right over us as we walked toward Rideau Street!), and discussed many issues pertinent to the Asthma Society of Canada and asthma advocacy.
2 PM – Off to Tunney's Pasture (Note: No cows involved)
If you imagine any federal government offices, I'm sure organized chaos is the term employed at the best of times. By early afternoon, Justin–who was dealing with everyone's schedules, locations, and cancelled meetings from the lawn of Centre Block with his cell phone–another totally non-standard issue came up: a gas leak near Parliament Hill. You know, something that only happens when you've got a full day planned. Somehow in the midst of all this, I found myself in a cab off to Tunney's Pasture with Vanessa. Note: I may have been Googling WTF Tunney's Pasture was, now not-so-secretly, and learning that it is the federal government campus (a less hasty Google has taught me that Tunney's Pasture used to actually be a farming pasture.) 2
We had a great meeting with one of the policy staff of Canada Health Minister Jane Philpott, and then booked it back over to a cab in the rain to attempt to be on time for our 3 PM meeting with the staff of my own Member of Parliament back on the Hill. The downside is that we missed Question Period, but hey, you can watch the Parliamentarians yell at each other on the internet, anyways.
3 PM – Meeting my Member of Parliament's Staff
By 3 PM we were back at Parliament, meeting with the staff of my Member of Parliament, Daniel Blaikie of the New Democratic Party. Meeting the staff of an MP is a bit different, but an equally cool experience, with both staff present jotting down notes and asking questions to brief my absent MP on the meeting. The meeting went much like that with Mr. Casey.
The cool thing about meeting with my local Member of Parliament's team was that I could dial it in a bit—this is how this affects me in Manitoba, as a constituent—a less generic version of the talking points. I was able to start the meeting saying "I appreciate the work Mr. Blaikie is doing against the emergency room closures in Winnipeg"—bringing it down to what they are doing certainly helps, especially when your elected representative is not of the same party of either the provincial or federal government. As I left, one of the staff took my card, and by the time I was out of the building, I had an e-mail to set up a meeting in the constituency office (back home) with Mr. Blaikie. (Again, you can read about that in my next post, Activate: Meeting Your Representative.)
Final thoughts on World Asthma Day Advocacy
As I write these final thoughts, it's a week after World Asthma Day. And I've been trying to process the experience for a week. I think my take home message is this: we start caring about things when we have a personal connection to things. This is why our elected representatives are important: because they meet with their people, and are there to represent them—issues that affect people are non-partisan (as we'll discuss more in my next post). And while I was learning about the inner workings of government and how we can make change, I learned an equal amount about just DIVING IN and talking to the people who make the changes—no matter their party.
I highly recommend this activity. Highly.
Just ask Dia, I phoned her immediately upon returning to my hotel room, and told her that next time I was in town, we were setting up a meeting to meet her MP! I encourage you to do the same!
And, yes, I was in my own MP's constituency office at home three weeks after returning from Ottawa!
Disclosure: My expenses to visit Ottawa were paid by the Asthma Society of Canada, as a representative and (now) part of the Government Relations Committee. I received round-trip airfare, ground transportation, meals and accommodations for 4 nights in Ottawa. There was no requirement I write about the experience (but, we all knew I would).
This article represents the opinions, thoughts, and experiences of the author; none of this content has been paid for by any advertiser. The Asthma.net team does not recommend or endorse any products or treatments discussed herein. Learn more about how we maintain editorial integrity here.