Time (zone) Shift: Managing Meds on Overseas Travel
In November, I took my first flight overseas and traversed my largest time-zone span to date: 7 hours between my home (GMT -6) and Zurich, Switzerland (GMT +1). For smaller time zone spans (< 3h), I really just let my medications adjust themselves and this works just fine for the most part. But, to be perfectly honest, while I did a tad more thinking, a similar approach traversed time zones with me from Canada to Switzerland, too.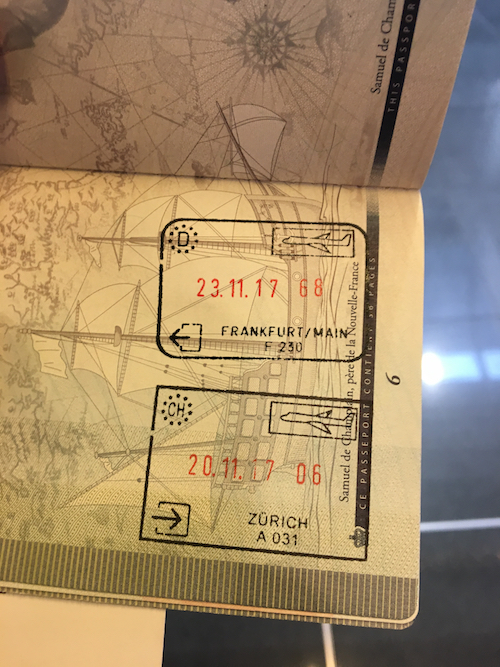 Seven hour time difference and only three days to get used to it? You can be rest assured that I really didn't—jet lag x2!
 
Acclimating to a new time zone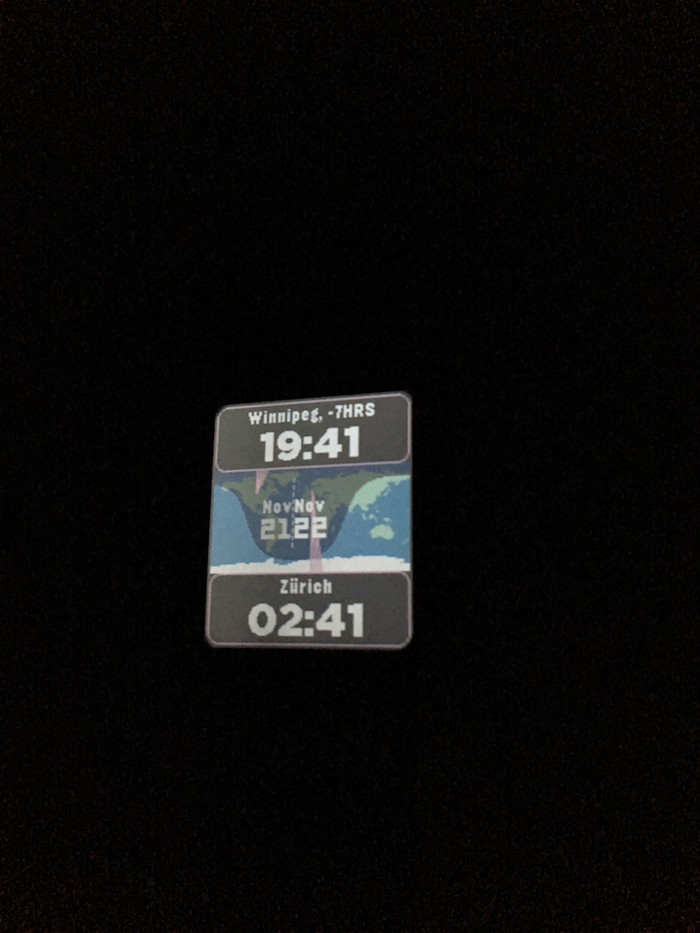 Though the Pebble Watch is discontinued, this watch app was super helpful. Yes, that's 2:41 AM in my dark hotel room. 
To alleviate jet lag they say to set your watch to the new time zone when you board the plane. Well, I may have cheated that system a bit, although this saved some math every time I texted someone back home! It also helped a tad in adjusting my medication schedule.
I flew out of Winnipeg at 10:20 am—5 pm in Zurich. My connecting flight out of Toronto departed at 4:35 pm—10:35 pm in Switzerland. I took my meds in the (swanky Air Canada lounge bathroom) at 3:40 pm as I changed into yoga pants for the overnight flight, and headed out to board.
By the way, my flight was then delayed an hour as "We were stuck in traffic downtown due to the, ah, Santa Claus."
Yes, my flight was delayed due to the Toronto Santa Claus Parade.
I settled in for the 8h5m journey, and fortunately, we made up much time in the air. I needed a couple of hits of Ventolin during the flight, but nothing significant for my first long haul flight!
Arriving in Zurich
In Zurich is where the approximations began. I went to my hotel upon landing, which was conveniently attached to the airport. Unfortunately, given it was 8 am by the time I'd gone through passport control and found my way, I couldn't yet check in (and I hadn't even managed to sleep in my fancy pod!). The hotel desk kindly offered me the (again very nice) bathroom to change, as well as the gym shower if I'd desired, and stowed my bags for me. I took my meds a bit early, around 8:20 am, and re-stowed all but the ventolin in my bag went to wander the shopping mall/airport complex to return around 11. Fortunately they had a room ready for me, and I grabbed a couple hours sleep before going out to explore Zurich!
Also, I almost accidentally stayed on a train to Bern as I didn't understand the German announcement, instead of getting off at Zurich Main Station... whoops! I couldn't figure out how to get off the train after a delayed reaction, and thankfully a guy was getting on and allowed me to escape as I was turning around to ask the car I'd just vacated now to exit given the absence of a phone or door button inside the car's door area!  From here it was an uneventful trip to the UBS Polybahn, the grocery store, and back to the hotel!
The final shift
I got back from a group dinner around 9 pm, just about perfect timing to take my meds, with a pretty much spot on buffer to take them prior to my 10:30 am start meetings on Tuesday, and again following Tuesday dinner. I rarely space my meds exactly 12 hours apart anyways so I was pretty close to what I'd have been at home—with very little effort! And, fortunately, I was breathing pretty easy in Switzerland, too! How do you like that?!
Staying on track in massively different time zone shifts
It takes a bit of planning but keeping on top of asthma meds (or any meds) that are semi-time sensitive can be done *fairly* easily when traveling—drugs that require strict dosing may pose more of a challenge (such as insulin injections) and I'd recommend a chat with your doctor to see how best to adjust these for your travels! For most asthma meds though, a buffer of a few hours late or early may not be a big deal, but it depends on you. Remember, stressing over time zones won't help either—stress can trigger asthma! Make a plan, but if you get thrown off, don't worry too much and figure out how to get back on track!
Have you ever had to juggle medicine dosing across an overseas flight? How did you fare?
This article represents the opinions, thoughts, and experiences of the author; none of this content has been paid for by any advertiser. The Asthma.net team does not recommend or endorse any products or treatments discussed herein. Learn more about how we maintain editorial integrity
here
.
Poll
Have you ever gotten "moon face" as a side effect of prednisone?