Track ALL the things!
Recently, I went to the Stanford MedcineX | ED conference as an ePatient speaker, to present with my friend Sara on the role of social support in chronic disease management, and how doctors can "prescribe" social support to patients. This post isn't about that, but instead, about the tech components of MedicineX: specifically, when a bunch of patients won the Pill Drill system. (Disclosure: it was free, I won it, they didn't tell me to write anything because I never talked to anybody from Pill Drill.) The day after I got home, I was greeted by a Fed Ex person ringing my doorbell and dropping a package from Propeller Health between my front doors. (Disclosure again: Propeller has dealt with me bugging them about their product for 5 years now, but did not ask me to write about their product either, and probably sent me a system to shut me up).
So, what is The Pill Drill?
The Pill Drill consists of a few things: the "base", which serves as a hub to flash bright lights and make sounds when medicine is due to be taken as set up in the app (I turned audible alerts off without even trying them), a pill strip which you can tap on the hub to log, and NFC tag stickers to attach to medicines to tap on the base to log. Meds can also be logged in the app, and it also comes with the "Mood Cube" to log how you're feeling. (From great to awful. Setting mine up after 40 hours awake due to a day in San Francisco and a red eye flight, I really wanted a SLEEPY cube side!).
What is Propeller?
Propeller is an app + inhaler sensor combo, which consists of an inhaler canister based "cap" that transmits info from your inhalers to the app to log "adherence" to asthma (and COPD) medicines, as well as to map out where you most often use these medications to enable greater insight into where you may be more likely to experience asthma issues.
So given my previous forays into the tracking space, with my own NFC tag set up, and QR codes from summer, my Ventolin currently looks like this: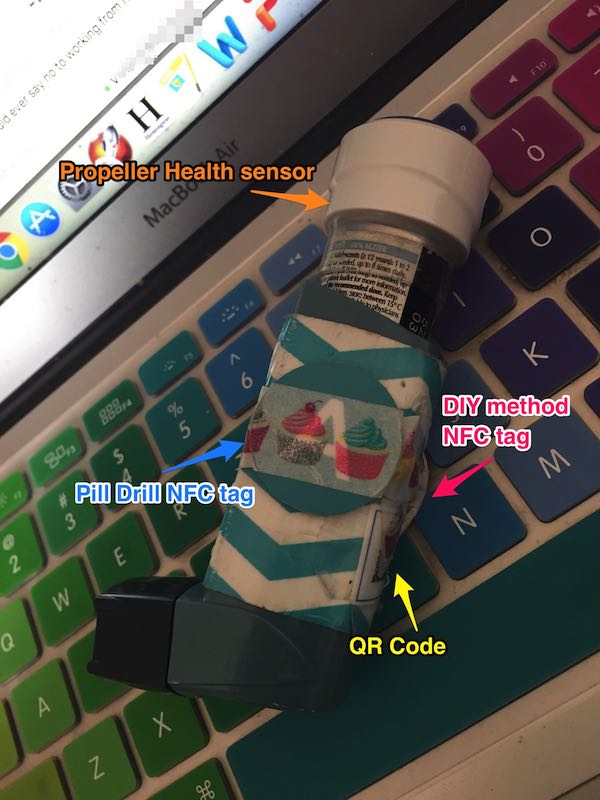 Yes, you counted that right. We have:
Propeller Health sensor attached to canister [compatible with 3 of 4 inhalers I take]
Pill Drill NFC tag [A] [inhaler agnostic; app recommended but not totally required]
DIY method NFC tag [barely visible, on back - to be tapped by a Moto X Android phone]
DIY method QR code [half covered in washi tape] [to be scanned by any NFC reader, device agnostic]
So, I've clearly gone beyond the DIY methods all in the span of 3 days—will the out-of-a-box methods work any better for me? Or will that motivation of the labor of love be missing?
This article represents the opinions, thoughts, and experiences of the author; none of this content has been paid for by any advertiser. The Asthma.net team does not recommend or endorse any products or treatments discussed herein. Learn more about how we maintain editorial integrity
here
.

Community Poll
Does humidity impact your asthma?