Unexpected Nuggets of Wisdom
I always try to keep paper nearby for when some sort of inspiration hits—and if paper isn't in reach, my phone is. Sometimes, that moment just happens to be on a conference call with the kids in the Asthma Pals mentorship program. (For background on Asthma Palsread more.)
Identifying Asthma "Nuggets of Wisdom"

In our second last week, as we discussed sports and exercise with asthma, and goal-setting, this nugget of wisdom came out of an eight-year-old participant, which I hastily took down! (…This is actually the re-write version, if I'm being honest!)

Today, I am calling this an unexpected "nugget of wisdom!"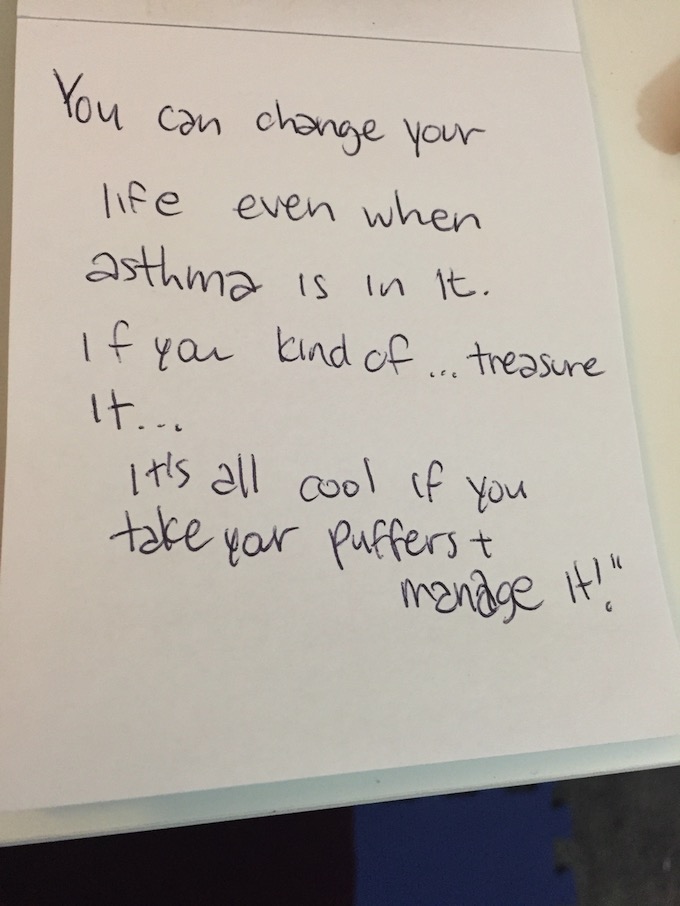 "You can change your life even when asthma is in it. If you kind of… treasure it… it's all cool if you take your puffers and manage it!"

I found myself, yet again, flashing back to my Physical Activity: Promotion and Adherence course in 2012, as I hastily scratched this beautiful nugget of wisdom down. The dozens of lectures centered around behavior change tumbled through my head—and more importantly, the even bigger "nuggets of wisdom" I took from the course; things that are but a sentence, but ones I've held on to. I was so much transported back by this kid's words, five years later, I texted the above picture to Jay Greenfeld, who taught the course.

Me: "[…] She should teach promotion and adherence when she grows up! ;)"
Jay: "She should teach it right now!!!! That's a gem right there!!!"
Lessons learned.
There are amazing nuggets of wisdom everywhere. They pop up when you least expect it—or, more accurately, "It happens when you pay attention." (Rescued, Jack's Mannequin).

There are so many nuggets of wisdom I picked up in Promotion and Adherence—nuggets within the content; others within seemingly offhanded—yet, likely very intentional—statements.

My five-year-old course notes contain a scattering of such quotes, lessons, nuggets, from Jay. Nuggets I took to heart and am still trying to live out.

It is not an overstatement to say this course was life-changing in how my thought process was challenged via these nuggets.

How I was challenged through the concept of mindfulness—the art of paying attention and being present, is one such nugget. As above: it happens when you pay attention.

How, over the past weekend, the "flashback" nugget also took hold: "You can do less and eat more on some days, and on others do more and eat less—and that's okay."

How this constant favorite attributed to Jay drifts through my brain often: "Write it down. If it stays in your head, it gets lost." (Seriously, I need that on a t-shirt!)

And, hand-in-hand with the whole, giant-but-small, mindfulness thing. Taking ownership of my choices. Taking ownership of my feelings. With that, comes this one: "Change the way you think about things, change the way you feel about things."

That last one was the friggen gold nugget, guys. It put into better words than I ever had, everything I'd known deep down that I had a choice. I had a choice whether to let asthma suck, and let asthma suck the life from me by being a constant negative rather than a reframed positive.

"If you kind of… treasure it."
Today's nugget of wisdom was pretty direct—except for two words. Treasure it. (My goodness, this girl won't even remember having said this and here I am writing an interpretive essay!)

She, not even ten-years-old, knows the thing that took me years to figure out. Let's break this down.

You can change your life even when asthma is in it. You have choice and can change your own life—even with asthma.

You have to roll with it. It's all cool if you take your puffers and manage it. It's all cool if you do what you need to do, pay attention to your body, take your medicine—manage it. Learn everything you can and don't let it stop you!

If you kind of… Treasure it. This part is blowing my mind, people. I can tell you, at 16 when I was diagnosed, I wasn't treasuring anything. I'm still not sure I am. Embracing asthma, maybe. But treasuring the experience alongside that of treasuring the people I am thankful to have in my life only because of asthma? I'm not sure I'm there yet.

And, honestly, I'm totally cool with being slayed by a kid who doesn't even know she's slaying me.

Well, I guess I know already that this, is an unexpected nugget of wisdom I'll hold on to for a long time!

"You can change your life even when asthma is in it. If you kind of… treasure it… it's all cool if you take your puffers and manage it!"

What are some nuggets of wisdom you've picked up on your journey? Share them below!
This article represents the opinions, thoughts, and experiences of the author; none of this content has been paid for by any advertiser. The Asthma.net team does not recommend or endorse any products or treatments discussed herein. Learn more about how we maintain editorial integrity
here
.

Community Poll
Are you currently taking Breo Ellipta?