What's in Your Bag?
#WhatsInYourBag has become a popular segment in the worlds of technology, fashion, beauty, and more. Websites and social media photos show tech bloggers or beauty experts as they dump out their purse or bag to reveal and discuss their daily "must-haves." Of course, their "must-haves" for a day typically include expensive gadgets, makeup, or accessories. This made us wonder, what about the bag of those who live with chronic conditions like asthma? We bet individuals with asthma would have a very different list of "must-haves" when dumping out their bag of daily necessities.
So we asked our advocates to share what's in their bags; what they carry with them on a day-to-day basis? Some of the items are rather obvious, some items very personal, but all the items give us a glimpse of what it's like to live with asthma.
My handbag usually doubles as my work bag so it usually always has my stethoscope in it. My vogmask has proven to be extremely useful and necessary since moving to the Midwest a year ago because I have noticed a lot more exposure to smoke (which is my biggest asthma trigger) from farmland etc. I never leave home without my rescue inhaler which goes from my bag to my pocket while at work in the hospital along with my favorite teal pen and my lipgloss. And of course my teal sunnies!
What's in John's bag?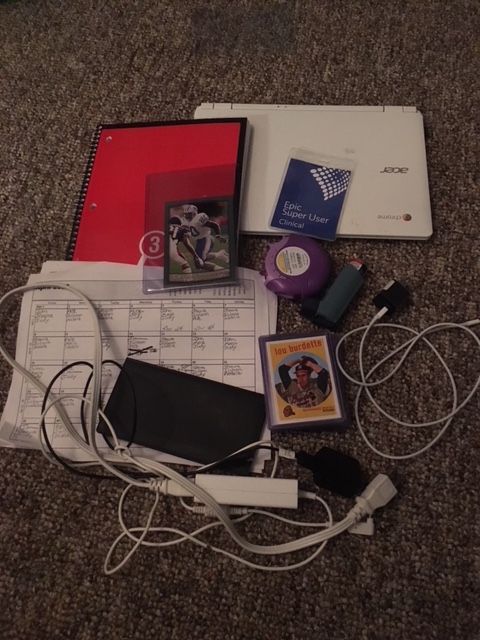 What's in my bag? A notebook for when I get ideas. My chromebook to turn these ideas into stories. My albuterol rescue inhaler. My Advair controller inhaler. My work schedule. Cords for my chromebook and iPhone. A random baseball card from my collection. A Barry Sanders football card. A badge from work. Oh, and one checkbook that rarely gets used. I think that covers it.
What's in Andrea's bag?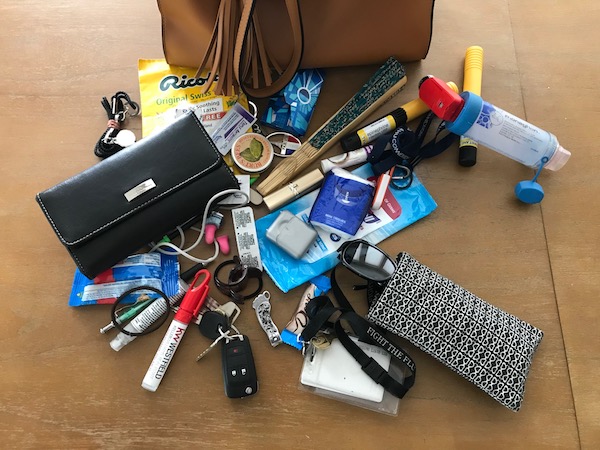 As a mom of a family of 5, I'm constantly asked, "Mom, do you have..." And yes, I have it! Antiseptic wipes (for keeping clean hands and preventing illness. Great for airplanes and other travel!) Travel hand sanitizers are a great backup. Tissues and allergy medicine for allergy season, Rolaids for upset stomachs, nail clippers, nail file and cuticle cream for hand care. Epinephrine auto-injectors and albuterol inhaler with spacer. Prescription sunglasses. I-phone charging cord, etc. I carry a huge purse and it's heavy! But I always have everything we need!
What's in your bag? How do you carry your asthma supplies? Share a pic of your bag in the comments below!

Community Poll
Has asthma changed your exercise routine?