Finding Your People (for Kids): Asthma Pals
In May and June, I was a part of the Asthma Society of Canada's initial launch of an asthma peer support program for kids called Asthma Pals. Asthma Pals, is an age-grouped program for kids 7-11 (currently) with asthma, facilitated by peer mentors who also have asthma. Asthma Pals is based on the University of Alberta's Social Support Research Program framework for environmental allergies, and adapted from Food Allergy Canada's Allergy Pals Program, and run via conference call for an hour each week for 8 weeks. Each week has a theme we discuss, we brainstorm and share ideas, and we play games.
If you thought children on a conference call would be a disaster, it's surprisingly not.
I know. If we just started kids on conference calls earlier, maybe they'd be less annoying on conference calls as adults!
As I write this, we're three weeks in. And these kids? They get each other. From the very first week, they felt that the other kids understood them, and said so. They were excited to talk to others with asthma about their experiences. Someone would share a story and someone would pop up on the chat and say "Me, too!" or "That happens to me, too." The first week, one kid told about how he'd been in the hospital the week before, and another kid had also been in the hospital—instant connection. Another moment of instant connection? Kids being excited that the weather was warming up across Canada and that they could finally start playing outside again near the end of April! (Yes, even kids discuss the weather!)
Week two, we talked about different asthma triggers, and kids discovered how many of them have the same triggers—allergies, colds, and cold air came up a lot. Their homework—called missions!—was to brainstorm about problem-solving their asthma triggers
"I love feeling that other people have the same thing and that you are not alone."
For week three, we discussed how we can manage and deal with our asthma triggers. Here are just some of the closing thoughts that were in the chat box: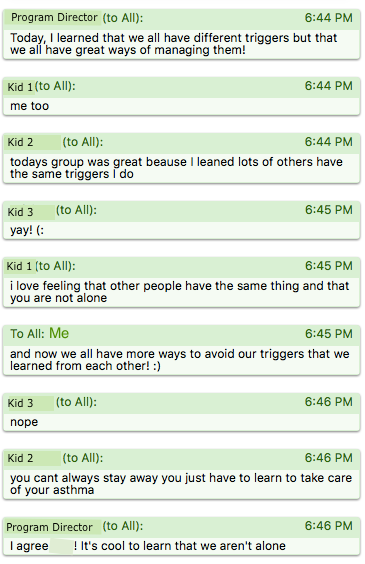 Asthma impacts kids' lives too
Lots of kids have asthma, but like adults, they don't always talk about it. They don't always want to talk about it—they're too busy being kids, after all. But it still impacts their life, sometimes on a daily basis. And while my co-mentor and I are there to lead the discussion and help the kids problem solve, the reality is, when given the opportunity, these kids problem solve pretty well on their own! And, in the process, they're also building a "toolbox" (or, treasure chest, per our slides!) for asthma management: identifying their triggers, making an asthma action plan, identifying people who are there to help them, and pinpointing their dreams for the future that asthma does not change! (Just to name a few!)
While I've written a lot before about the difficulty in finding adults to connect with, I think I hadn't thought about how, though kids know other kids with asthma, they're not necessarily talking about it. And through Asthma Pals, I've realized just how important this is, and how empowered these kids feel with regard to their asthma as we wrap up each week's session. Finding your people, as I've come to call it, is super important—and it's important for kids, too!
This article represents the opinions, thoughts, and experiences of the author; none of this content has been paid for by any advertiser. The Asthma.net team does not recommend or endorse any products or treatments discussed herein. Learn more about how we maintain editorial integrity
here
.

Community Poll
How often do you experience a shortage in your asthma medication?